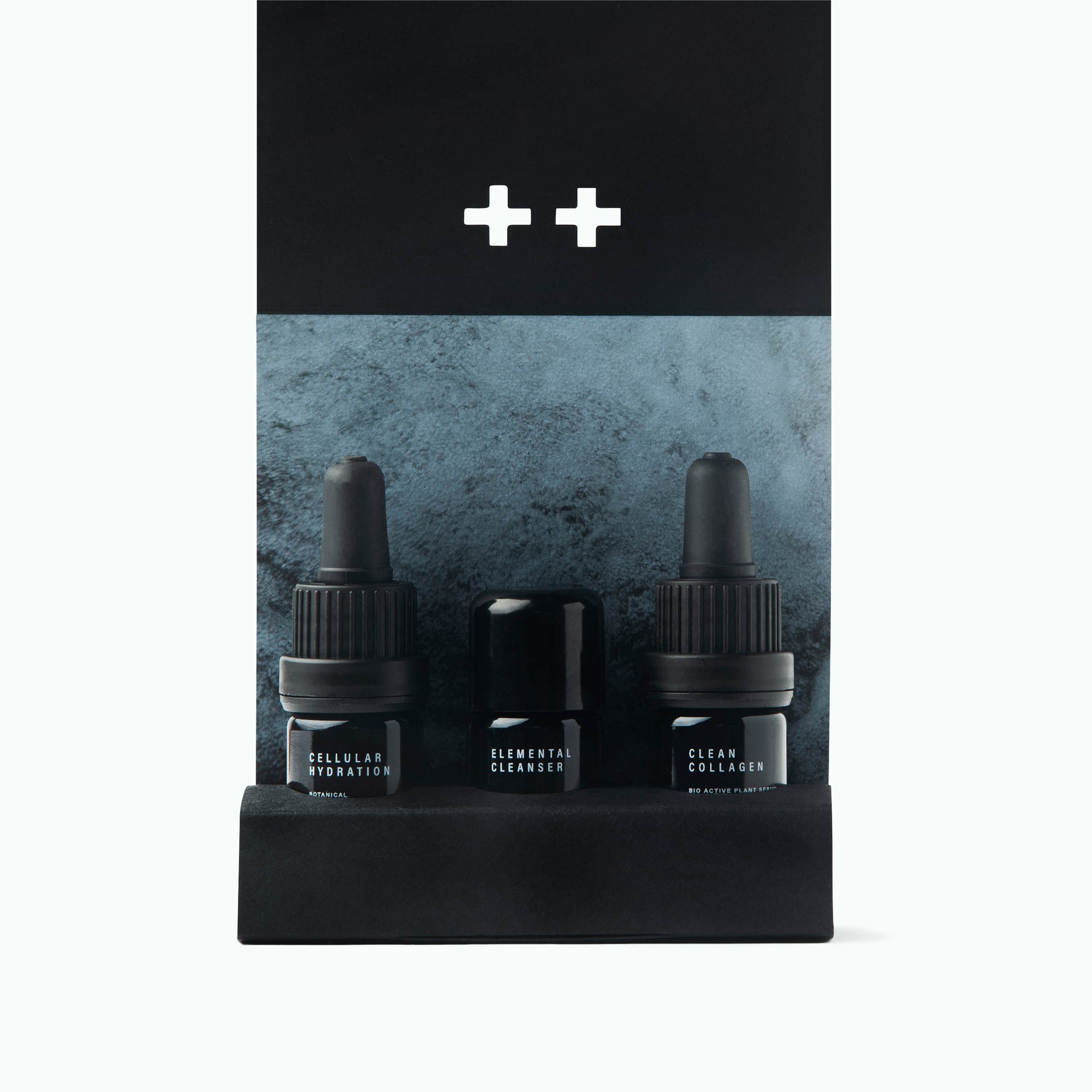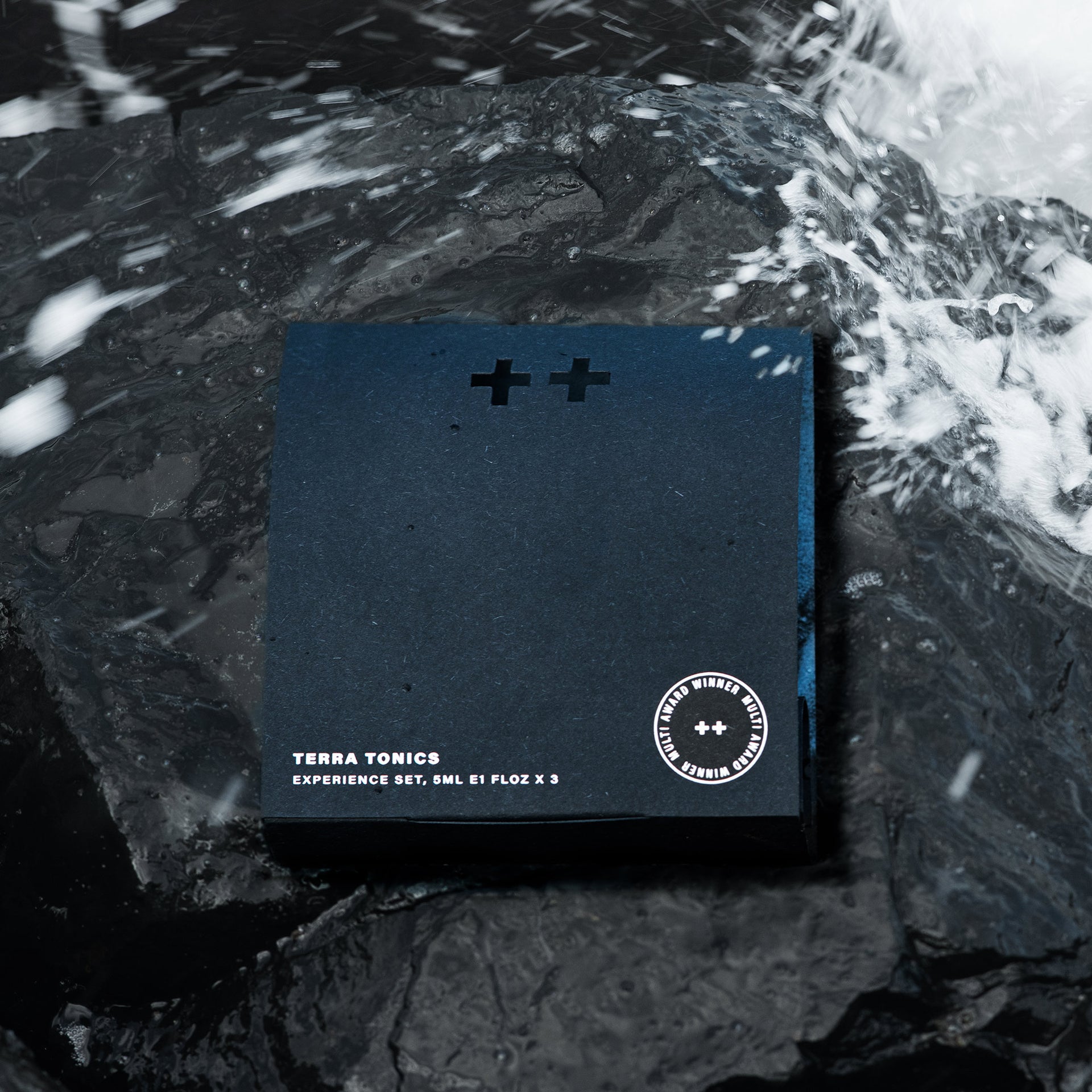 Terra Tonics Experience Set
Terra Tonics Experience Set is the perfect introduction to the world of Terra Tonics.

See and feel unparalleled results from using this set. This will be your first foray into the possibilities of what good skin care harnessing the power of plants can do for you and your skin. The set comprises of:
Terra Tonics Elemental Cleanser 5ml

This revolutionary powder to foam cleanser has taken the beauty world by storm.

Just 10 pure plant ingredients make up this cleanser. Formulated carefully with the most active dynamic ingredients that help purify your skin by effortlessly absorbing excess sebum, unwanted toxins and free radicals all whilst nourishing and repairing.

Unlike liquid cleansers this living formulation is activated fresh with each use so your skin receives the full benefits of the active antioxidants.

Suitable for ALL skin types. 
Terra Tonics Cellular Hydration 5ml
Can one ingredient provide you with all the hydration you need? A resounding YES Terra Tonics has unlocked the full potential of the ingredient to provide you unbelievable hydration.

Terra Tonics Cellular Hydration pure plant antioxidant complex is derived from a single botanical to deliver unparalleled targeted hydration.

Scientifically proven to hydrate 4 times better than any synthetic hyaluronic acid.

This full spectrum botanical hyaluronic acid has the unique capability of making up for the loss of naturally occurring hyaluronic acid in your skin with compounding results. It also aids with the reduction of fine lines and wrinkles while supporting the elasticity and structure of your skin.

Unlike synthetic hyaluronic acid, which leads to dryer skin with sustained use Terra Tonics Cellular Hydration doesn't need any additional products to lock in moisture.

Its low molecular weight helps penetrate deep into your dermis to aid moisture regulation keeping skin plump and replenished.

Terra Tonics Cellular Hydration works seamlessly and symbiotically with your biology, helping to repair your skin barrier and adjusting its water retention based on the humidity of the air. Your skin will never look too wet or dry out. It will be just balanced making it ideal for any climate.
Terra Tonics Clean Collagen 5ml
Collagen like you have never experienced before with unrivalled results The multi awarded Terra Tonics Clean Collagen directly addresses collagen loss with just 5 whole plant extracts and nothing else.
This is a world leading innovation in plant based skin care, which carefully combines natural retinol (4% Bakuchiol) with potent collagen promoting compounds derived from pure plant extracts.
Each ingredient is 100% bioavailable and meticulously chosen to stimulate your body's natural collagen production.
This living formulation helps restore structure and reduces fine lines while repairing your skin at the cellular level to leave you with a plump and radiant complexion. The plant compounds work on your skin as they would in the plant - healing, protecting & regenerating.
*Please do not use a moisturiser with Clean Collagen or Cellular Hydration as it will impair the bioactive ingredients.